First response and very personal opinion from this author after a long wait between shows …
We can get used to things (and get fed up) very quickly. But the excitement of being surrounded by friends and industry colleagues stayed with me all week. When you talk to exhibitors at a show, it's rare for someone to answer the question "How is your show going this year?" With something other than "amazing we've been incredibly busy". It is, of course, obvious that often these claims are literally unreliable. The law of averages states that sometimes the answers shouldn't be so positive! That being said, 2021 seemed to be advancing on its own wave of positivity.
This year the show had energy. A buoyant market tends to contribute. As a media outlet, it's also okay to be waived from time to time in an interview or meeting because a designer has been called in for an urgent meeting with a shipyard, or a builder calls in. deals are stuck signing deals. And there were certainly plenty of them at MYS 2021. After a few initial tows and flirting with pre-show cancellations, the majority of key builders and brokers had a solid representation.
Nobiskrug's Artifact had the desired impact. The less controversial opinion being that the photos did not do her justice, especially when approached from the water and from her stern. of the direction Long live seated prominently but a little quieter opposite, his real innovations being in the engine room and remaining mysterious. Despite the Bentley up front, the story of Victorious is not very Monegasque, having started life as a 77m hull in Chile which was then towed most of the time around the world before becoming the 85m explorer on display today. While her environmental footprint may have been excessive, she still has the potential to convert a wide range of ships with a little imagination (and lots of tugs). It was encouraging that the larger motor yachts on display featured such a diverse range of design, propulsion, provenance and function.
MY artifact
With two years full of conversations around a future full of sailboats and exploration yachts, there was a somewhat limited representation of both. Fat de Silver Yachts was here again, bolder than ever, but other than that innovative explorers were not in force. Damen Yachting and Free time showcased their highly successful line of support vessels, but a new buyer in the market wouldn't have walked out of the show convinced the future was as fearless as the news cycle suggested.
The corner of the sailing industry outside the Monaco Yacht Club had a sense of cooperation between suppliers and builders. And the yachts on display had an advantage, with the Perini Navi shaped hole in the market appearing to be filled by quality builders. Baltic Yachts brought a certain size, with the 146ft Path unveiled. But there was a glaring lack of tall ships at anchor or in Port Hercules, as we have seen in previous years.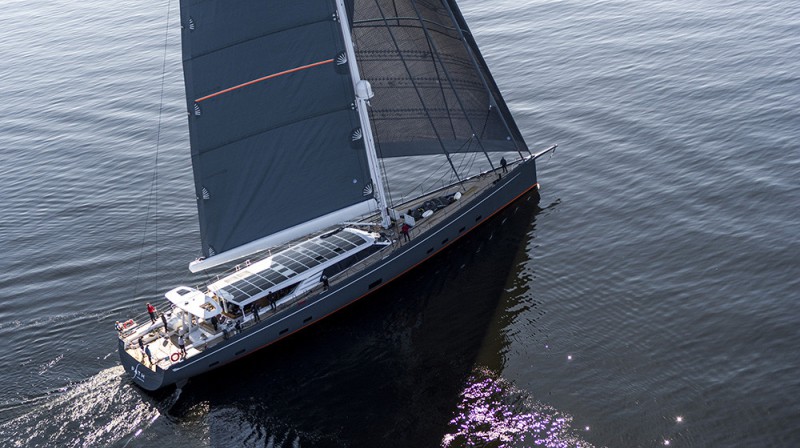 SY Path Baltic Yachts. Monaco Yacht Show image credit
It was both encouraging and worrying to see the proliferation of hydrogen, underscoring the need for regulatory clarity in this area. During the hiatus of the Monaco Yacht Show, the industry appears to have shifted from alternative, low-flashpoint fuels to the realm of more resource-rich builders (with their multi-year testing processes in specially designed test facilities. designed) to hydrogen being a more widely used competitive advantage. I am concerned that the market is going beyond regulation.
I encountered a small hunting boat with two 350 bar pressurized hydrogen cylinders going from bow to stern. I cannot judge the legality or structural integrity of the cylinders, but I can comment on the wide range of superyacht deck crew handling capabilities and the still ill-defined training and regulations for handling in safe from pressurized hydrogen. Hyperbole abounds when referring to the dangers of hydrogen tanks, they are not "hydrogen bombs" but still, much more of a problem than diesel if it breaks. The much-needed conversations about safety and low-flashpoint fuels underway at IMO may need to shift gears to catch up with entrepreneurs.
Limits and precautions designed to keep the crew safe from COVID and operating vessels appeared to be respected, at least for the most part. The number of participants walking the tours is declining, as evidenced by the significant drop in the number of shoes at the end of each catwalk. The crew I spoke to also said that, overall, the people on board were following the rules in place. For many of the crew, this represented a huge increase in the number of people passing through the yacht and their homes compared to the past 18 months. The evidence that the measures isolated the crew will be evident in the coming days. At any Monaco Show, many yachts have not yet finished their season. This is exacerbated by many owners looking to extend their seasons after a somewhat fallow year in 2020. Hopefully the crew won't suffer for the sake of the show.
It was a great show, with exciting discussions. The damning sustainability reviews from all corners of the market will hopefully lead to continued positive development. Likewise, I hope that regulatory pressure and controls can keep pace with market developments. Our conversations and panel discussions for the Superyacht Forum Live Tour made it clear that the industry's rhetoric about a sustainable future is, for the most part, increasingly focused. During this period of growth, we must ensure that the strong superyacht market is embedded in the principles and promises made in the era of the pandemic.
Profile links
MONACO YACHT SHOW
---
Click here to become part of The Superyacht Group community and join us in our mission to make this industry accessible to all and prosperous for the long term. We offer access to the superyacht industry's most comprehensive and oldest archive of critical information, as well as a comprehensive, real-time database of the superyacht fleet, for just £ 10 per month because we are an industry with a mission. Register here.